Full Member
2+ Year Member
Joined

Apr 2, 2017
Messages

66
Reaction score

38
Hey guys! First post here since getting accepted into med school. I'm feeling discouraged with dedicated and would love advice on my methods so far.
It's week 2 of 7 of dedicated i'm pretty concerned with my content foundation. I got a 174 on the NBME 20 (7 weeks ago, before the semester ended), and a 145 on UWSA 1 when i took it on the first day of dedicated. For the past two weeks, my average is around 34% and hasn't really changed (40 min timed random, I keep getting 30s-40s). The one positive is that I feel more confident going through the blocks and I feel either stronger about my answer choice or more able to make educated guesses better. Dedicated has basically been 2 blocks a day, reviewing it with making Anki decks, reviewing content with a friend for 2-3 hrs (we talk through FA and integrate pathoma/sketchy/UWorld details throughout), then Sketchy and Pepper deck if I have time. Does anyone mind providing thoughts on this process or what I'm doing wrong?
This is my content review schedule (my blocks/daily tasks are on another calendar), and I have a meeting with my advisor next Thursday (week 3, after NBME 21). I was planning on doing taking NBME 21 and having a new baseline sooner to be available for my meeting, but I still haven't run through Neuro/Heme. I'm not sure if i should do NBME 21 on week 4 instead, so i can get through Neuro and Heme/Onc first.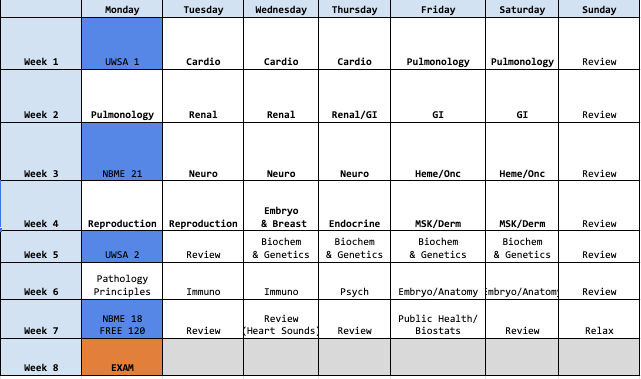 Thanks in advance!