Disclaimer: Before anyone gets too upset about this post, I write this all with tongue in cheek/somewhat sarcastically. Education is (usually) always a better investment than a vacation property. I just hope to help those discerning a career in dentistry with realistic expectations/ a plan to pay off student loan debt. Personally, I jumped into dental school without a care in the world about the debt load. Now, as a recent graduate, I wish I had known about plans and options beforehand.
So, with that said, the NYU College of Dentistry recently released it's estimates for a 4 year education at the institution. According to the website, it will soon cost over 700k to attend. If you don't take this cost seriously, please understand that even for dentists with eventual high income, this is a huge investment. While there are absolutely cheaper schools, dental school in general is very expensive.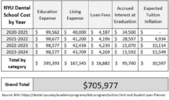 Just for comparison, you could buy this a Miami 2 bed/2 bath condo for about the same price...
Again, this comparison is to just show how much money 700k really is.
Before you take out loans, know your options....
As the cost of dental school continues to increase, I would assume that most if not all borrowers will eventually participate in the Income-Driven Loan Repayment Plan (IDR).
This is a constantly evolving program that changes based on the administration that is currently in office and it sounds great, BUT there are some serious long term consequences that comes along with this program. Most importantly, the tax bomb at the end of payments.

Here's how it works:
Most dental students that are eligible for the program will pay 10% of their discretionary income in monthly payments. This will significantly reduce monthly payments versus a standard plan.
After 20 years of payments, your entire loan balance will be forgiven. GREAT! But, this is where the downside comes in.
The forgiven amount of the loan will be taxed as income. So let's estimate...
It's 20 years after dental school and you are in your peak earning years as a dentist. Let's say you are comfortably making 300k per year and are about to be hit with loan forgiveness.
You took out 700k of dental school loans have payed off ~200k with the IDR plan. Huge relief that you get the rest forgiven right?? Well yes, but your taxable income is going to increase significantly.
Conservatively (not including accrued interest over the 20 years) you have 500k worth of loans forgiven.
So your taxable income will be 800k for the year (300k actual income plus 500k of forgiven loans)
While this is still a better option than paying ~5,000 per month in loan payments for a standard plan, the IDR plan is also not all sunshine and rainbows.
I am not trying to scare anyone off from dentistry, but with increasing dental school cost we need to realize the true worth of this investment in education. Dental students need to understand that their debt to income ratio may be severely skewed coming out of school. According to recent ADA numbers, median income of new dental graduates is $130,000. On the IDR program, this would equate to $922 dollars worth of loan payments per month. Still not an inconsequential amount of money.




The TL;DR:
Know your plan before taking out mindlessly taking out student loans. Set a budget, keep your other debts low as possible, etc. IDR plan is extremely valuable in helping students realize their dream of becoming a dentist, but there are also major disadvantages.
Last edited by a moderator: