Finally done.. finally. I've been reading these tings religiously for the past few years (yes, years). I remember making my SDN account back in HS and telling myself that if I make it past the DAT then nothing is stopping me. Well here I am, three years later! Sorry in advanced if this is really disorganized. Overall I'm happy about my scores! I'm upset that the 21 in bio is weighing down my chemistries, but you can't complain with a 23 TS or a 21 Bio! I'll go more into detail of each section later
Scores:
23PAT/25QR/21RC/21BIO/29GC/26OC/23TS/24AA
Bootcamp scores
: (full lengths in red taken a couple weeks after finishing the majority of my subjec specific tests which are in green)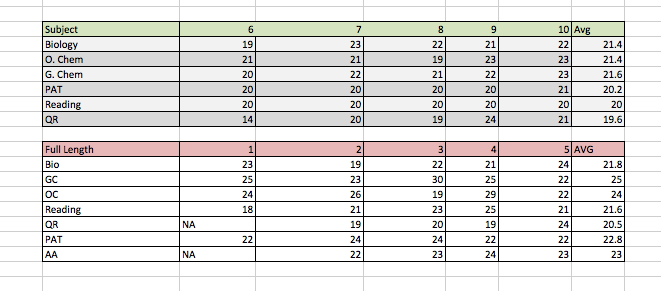 About me
: I just finished my sophomore year a couple months ago at a large state school in Colorado and will be applying next cycle. I have roughly a 3.9 GPA and am a biomedical science major if anybody cares. I truly contribute a lot of my good scoring to my undergraduate studies! If I didn't pay attention or study the small stuff during lecture, I think my DAT studies would have been a lot more stressful.
Material used
(in no specific order)
DAT Destroyer:
The statements you hear about this thing being essential are true. This book fills in so many gaps that you didn't even know were there. Every question in every section of this book is there for a reason! Whether it be solidifying a small topic that applies to a very broad possibility of questions, or just stating a fact that has been seen in the past tests, every question should be viewed as mandatory. This book will tear down your confidence on the first few pages, but there is no better feeling than being on question five hundred whatever of bio and getting 15 questions correct due to your persistent studying. This book is such a good resource, and the people behind it are amazing! Thank you Dr. Romano for producing such a good resource, and thank you Nancy for giving me a call here and there to check in and give me words of advice. These two truly do care about the
student
that is taking the test! I'm more thankful than words can describe for your book! If you want high and consistent science scores, get it.
DAT Bootcamp
: This resource is extremely useful and representative for the DAT. It really brings out your weak areas and provides a lot of tools on how to study and improve your scores! The explanations for the questions are also amazing. I learned a lot from writing down the definitions and concepts behind every single answer choice of questions that I was iffy about. The PAT generator was also pretty representative of the real deal, and this overall was just a great tool to get yourself acclimated to the DAT! I couldn't imagine what my scores would be if I didnt use this resource as much as I did. Thank you Ari!
Feralis notes:
Sorry man, but I'm finally taking your link off of my bookmarks. In all seriousness, this is a necessity for biology. Feralis takes so much information from so many resources and puts them into one fairly concise PDF. I could nearly bet my life that if I had a copy of my bio section of the DAT, I could find the answer to every single question in this note section. Overall, this covers everything you need to know.
Cliff's
: Didn't like this. If you have a sturdy background in bio coming into your studies, just go to Feralis tbh. If not, then this would be a good place to get your feet wet.
Destroyer tutoring
: I didn't know what to necessarily call this, but it's the tutoring program run through Destroyer. I'm not sure if he'd like for me to disclose his name, but this guy is the man! I used him for QR (not sure if they do other subjects), but he really told me a lot of secrets that helped me solve complex questions really fast. If you're having trouble with QR, go check him out!
Coursesaver Chad's videos
: Great and funny guy, and easy to listen to! Used him a lot during organic chemistry in my undergraduate class and it helped a lot! I recommend him for your chemistries
Mike's videos
: This guy will keep you awake. His cheesy jokes that, sorry, really aren't that funny, help you understand things a lot! It helped me a ton to remember the henderson hasfldfjsk equation (yes, he pronounced it like this), and a ton of other concepts. Also, his ear-to-ear smile at the end of every video cracks me up every time.
Youtube
: Used these here and there for some explanations. They don't give a lot of information but give you a big picture which can sometimes be pretty helpful.
Math Destroyer
: This is a very useful tool in broadening your math knowledge. The real DAT is on par with this in some sections, but for the most part, quite a bit easier! I'd definitely recommend going through this bad boy a couple times! BTW, I do have an extra copy of this that I will be giving away for free to somebody who
needs
it! Key word needs. PM me for the info!
Now I'll just break down each topic and talk about how I studied.

PAT (23)
Really only used BC for this. I'd run through 3 or four subsections per day and do around 15-30 questions each. Angles started off as my weakest section but quickly became my best. I started off using laptop and hill, but then used rapid glance on the real thing and during my later studying and liked it more. All I can say here is practice!
Test day:
Overall this was pretty similar to BC. The TFE on the DAT was much easier, but the angles were harder. Keyhole was easier, but the proportions were so bad! So many of the correct answers here would be wrong in BC just because BC is so exact. This preciseness on BC really helped though! Hole punch was easier on the real deal, as was folding. Cubes were surprisingly harder (I swear that one structure had 6 3 sided cubes, but the answer choices only went up to 5).
QR (25)
I've always been really good at math. I was in calc 3/diff eq my senior year of HS, and was a Calc I tutor my freshman year of college. But listen to my words: none of that matters here! I though I could pass QR with flying colors and then got a 14 on my first BC practice test. It really showed me that if you've been out of pre-calc, algebra II, etc. for a few years then you will be RUSTY! How I studied was just going through Math destroyer once. If you do this, then you'll know what'll be thrown at you! I also recommend hitting up the tutoring service provided by Destroyer. He's an amazing resource and I would not have gotten this score without him!
Test day:
This was one of those sections where I was taking the test and looked up and I was already halfway done. It flew! I didn't think I would score a 25, because a lot of the QR questions were pretty difficult. I got a few geometry questions (one was very hard, others were very simple), and got one trig question (pretty basic). Probability questions were much easier than destroyer. My hand started sweating and shaking towards the end because I knew what was coming, so I ended 5 minutes into my 10 minutes of extra time at the end of the section. (there was a question in the tutorial that showed up in my actual test btw lol)
RC (21)
My whole life this has been my downfall. ACT, SAT, you name it. To study, I read SA everyday, but didn't really read it effectively until a couple weeks ago where I started to see my test scores go up. This is kinda one where you have it or you don't, but don't let that stop you from practicing. When you practice, read to comprehend, not for speed!
Test day:
I almost got really mad really quick during this section. I told myself that if I just focused on the reading, I could go through and get a 23 and be done. But no, I started venturing off into lala land and got screwed! I've heard about the DAT RC being in order, but mine was NOT. My first article was about the nucleus, but it turns out that I know jack squat about the nucleus because these questions were destroying me. I thought I was going to get a 15 and would have to retake. All of the articles were very short (like 7-10 paragraphs), so the questions were super detailed. Thankfully my last article was pretty easy, or else I'd be scheduling a retake.
BIO (21)
As most people, this was my most studied-for section. I started off reading Cliffs while taking detailed notes, then moved onto Feralis and destroyer. If I could do it again, I'd start with Feralis and skip Cliff's because I think I have a pretty sturdy bio background. I am a BMS major, so I am very familiar with A&P, so I didn't really focus too much on that. When I was studying Destroyer, I went through and would basically write a note on every question I got wrong or was iffy about. I then made ANKI cards for every note I wrote down, and would do the same for Feralis. I'd make it my goal to study around 150 cards per day. I then went through destroyer again and filled in the gaps. Destroyer will prepare your for basically anything you can see on the test!
Test day:
These questions were so poorly worded. None of the topics were hard, but the questions were so obscure that I really didn't know what it was asking half the time. I could generally narrow it down to two options, then took a pretty educated guess if I didn't know the answer straight up. No plant questions for me, which was nice. After seeing my scores, I'm upset that I didn't get a higher score to even out my TS, but the world will still spin.
GC (29)
I was pretty bad at GC in highschool, but somehow became really good at it in college. I forgot most stuff from my GC classes, so I had to basically relearn it all. I started with chads then used mikes on some iffy topics. Overall, practice and you'll get it. Did destroyer 2x.
Test day:
Don't really remember this section much, but I do know that the topics were very basic. If you can get through BC and Destroyer a couple times then you should be fine.
OC (26)
Had no worries with OC going into this studying. I did very well in OC I and II in undergrad, and was a tutor and TA for OC I last semester, so I basically took OC I twice last year. This is an example where my hard studying in undergrad helped me get a really good score. I did Destroyer 2x here and don't recommend any less! In college I would make a rxn sheet before every test (usually had about 50 rxns and mechanisms per sheet). Thankfully here there werent many actual mechanisms, so it was pretty easy to make. Practice practice practice.
Test day:
Kinda upset I got a 26. I think the question I missed was asking what an amino acid would look like at a certain pH given a pKa. If I took this test three months ago, I would've gotten it, but it fell out of my brain. Very straightforward. Nothing I saw here wasn't in destroyer.
Well that's a wrap! Overall I studied 3 months, but the first two months were very inefficient. I was living at my house up at my college with my roommates, and I couldn't really focus. I love those guys but I had to make the executive decision to move back home while I finished up my studying! I'd try to study 7 days a week, but would usually take breaks to go golfing, hangout with friends, or go to a party here and there. Having fun is very important! It lets you unwind and relax, and it lets the moment hit you where you think "crap I know nothing I need to go back home and study" (At least for me). Towards the last month I was studying about 12 hours per day, but with breaks here and there. I spent the last few days going back through BC again. Thankfully the program is iPad compatible so I could lay in bed or on the couch and mess with it. On test day, I drank a cup of joe out of my LA starbucks mug (UCLA dreams), and had a breakfast skillet. I grabbed my lucky eraser (I've used it for every test in college) and unknowingly held it on the way to my test. Prometrics was very good to me! I saw bad reviews all over this site, but the ladies there were so nice! I had a protein bar during my break, and overall it went pretty well! I made sure to post this ASAP so that nothing else would fall out of my head.
Again, thank you to everybody who was mentioned before! And an extra thank you to those of you who I reached out to for a stress relief, and those of you who posted your breakdowns for me to read! I'm glad that I finished just in time for the PGA championship!
Last edited by a moderator: