Full Member
2+ Year Member
Joined

Jun 20, 2016
Messages

264
Reaction score

48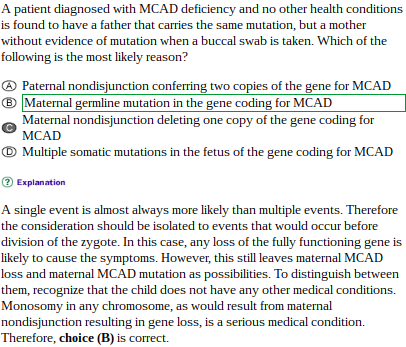 I don't understand this question at all.
In the passage it states that MCAD deficiency is an autosomal recessive disorder.
Therefore, I assume that the Father would be aa, the mother would be Aa (otherwise an affected child would be impossible to produce)
aa*Aa=50% affected and 50% unaffected carriers
What is the difference between 'maternal MCAD loss' and 'maternal MCAD mutation' stated in the key?
What concept am I not understanding
Explanation of why ACD is wrong would be helpful as well!