New Member
10+ Year Member
May 30, 2006
101
29
Status (Visible)

Attending Physician
I am admittedly careless at times with my hands in the path of the x-ray during fluoroscopic procedures. I am otherwise careful with radiation safety, wearing lead glasses, taking a step back during laterals, generally avoiding live fluoro, etc. I was led to believe that incidental exposure to the hands for the procedures we do was generally benign. But I've come across some articles that are leading me to believe otherwise.
Radiation Induced Hand Necrosis of an Orthopaedic Surgeon Who Had Treated a Patient with Fluoroscopy-Guided Spine Injection
Primary cutaneous carcinosarcoma developing after chronic C-arm radiation exposure
https://www.researchgate.net/public...on_Induced_by_Occupational_Radiation_Exposure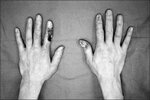 The guy above got radiation necrosis of his bilateral thumb and forefingers requiring skin grafting. He was an orthopedic surgeon who did spine injections under fluoroscopy for 17 years. Another high volume proceduralist who apparently did a lot of vertebral augmentation developed squamous cell carcinoma of the hands after 11 years. The third guy was an orthopedic surgeon who with significant fluoroscopy exposure (unsure if through injections or other ortho procedures) who developed "primary cutaneous carcinosarcoma" after a 20-year career. Interestingly, all of these cases are out of South Korea.
I have no idea how these guys practiced. Maybe they just held the fluoro pedal down continuously with their hands in the beam. But I do about 50 procedures/week, and these cases do make me a little paranoid and I'm going to be a lot more careful to keep my hands out of the x-ray.
I also don't know how common this radiation damage is outside of these case reports. Do you guys know of any proceduralists that have had issues with their hands after years of fluoro exposure?
What techniques do you use to avoid exposure to you hands?
I know there are leaded gloves, but I heard most avoid these since they affect the fluoro unit's automatic brightness control to increase x-ray output, negating their benefit. Some people use forceps to manipulate the needle. I find this kind of awkward and only use this technique during kyphos and Vertiflex, not basic injections.
For now I think I'm just going to try to be more mindful to keep my hand out of the beam, and wear one of those ring dosimeters for awhile to track my exposure.