Sharp Dissector of the Avascular Plane
As an upfront warning: this might be the longest post in the history of Student Doctor Network (probably not true - but this is a dissertation).
Something I've heard a lot in both real life and online is the sentiment that the "sky has always been falling in Radiation Oncology". Indeed, there have been concerns over the job market for as long as I can remember. When I was first looking at the field in the late 2000s, it was widely known and freely shared with me that there were tremendous geographic restrictions. I believe that has always been the case.
However, over the years (and especially recently), folks on SDN have referenced the job market and what happened in the field in the 1990s. In a version of history repeating itself, there was some sort of expansion of RadOnc in the 1980s which culminated in job market concerns in the 90s.
So what happened? Clearly we survived that period and the field massively expanded starting in the mid-2000s. This fact - that people believed the field was facing some sort of crisis and survived/thrived - is being used now by the leadership to avoid contracting residency spots and programs.
This has been discussed in other posts on the forum, but I felt the need to have a singular, cohesive post telling this history as best as I can understand it. To summarize my hypothesis:
In the mid-1990s there was a growing concern regarding oversupply of Radiation Oncologists in America, leading to a poor job market. In response, the leadership of the time manually and voluntarily contracted spots and programs. In the early 2000s, IMRT was introduced, generating significantly more revenue and balancing the "demand" side of the economic equation.
I'll have a "too long, didn't read" conclusion at the end.
I'll let the reader decide if my argument makes sense.
(As an aside - I can and probably will do more research into this, however, I can't exactly add this to my CV and I have but only so much free time in the day. Please let me know if you find gaps or have other evidence I overlooked)
The 1990s: Pre-Golden Era
One of the earliest publications from the 1990s discussing the specialty is "The Case for a Three Year Residency Program in Radiation Oncology" by Thomas W. Griffin from the University of Washington, published in The Red Journal in 1993. In the beginning of the 90s, Radiation Oncology was, in general, a three year residency program, though some (all?) programs apparently had an optional fourth year. In the early 90s, the idea of making the fourth year mandatory was proposed. The article by Dr Griffin pushes back against the mandatory fourth year, arguing that the specialty of Radiation Oncology was learned to competency in three years. Interestingly, he makes similar points we've heard recently, that all institutions are not created equal and not every program would be able to provide quality education in the extra year, whether it was a year of bench research or subspecialty training (in areas like heavy particle radiation therapy, for example). It sounds like fellowship training in a particular area of interest was more common/accepted in this time (Dr Griffin states that making a fourth year mandatory would delay allowing residents to attain fellowship training at an institution of their choice).
According to SDN Lore, making RadOnc a mandatory four year program was an underground strategy by programs to address job market concerns (delaying an influx of graduates, thus addressing the "supply side" of the equation). I do not currently have a reputable source for this claim and am unsure if one exists, outside of oral history and speculation.
There is currently an article on The Red Journal's website, published in 1996 by William D. Bloomer of The Radiation Medicine Institute and the Evanston Hospital Corporation, entitled "On manpower needs and solutions". However, the linked PDF seems to be uploaded in error, and only the final page of the document is available. The available page contains the following paragraph:
"Not surprisingly, dispersion of radiation oncology services within the historical catchment areas of many academic medical centers accompanied the increased output of radiation oncologists in the 1980s. A boon to patients and their families, these expanded services, nonetheless, adversely affected both the quality and quantity of resident teaching case material at many academic centers. Although it will not solve any current manpower problems, a critical reappraisal of residency accreditation criteria is clearly in order."
Apparently, that Issue of The Red Journal (Volume 35, Issue 4) had a report on the training and education of RadOnc residents which Dr Bloomer disagreed with. He calls for the development of "objective accreditation criteria to be applied to U.S. programs". Very interestingly, he notes:
"Implementation of the recommendations from such a process is likely to withstand any antitrust or restraint of trade challenge."
He ends with:
"In conclusion, we face a very painful decade ahead. Unlike medical and surgical subspecialists who can fall back onto general medicine and surgery if their specialty practices falter, radiation oncologists have no realistic career options without major retraining. We have a collective responsibility to warn prospective residents of the hard times ahead."
However, the claims by Dr Bloomer did not go unchallenged. In the same issue of The Red Journal, Jonathan H. Sunshine of the ACR published "Too many radiation oncologists? An empirical report.'' Within the manuscript, Dr Sunshine states that, in 1994, the unemployment rate for Radiation Oncologists averaged 0.2%, which was lower than the 0.4% rate for all physicians that year. Surveys were also collected in 1994 and 1995. The results:
"In 1995, none of the graduates of responding programs (who totaled 149 residents and 26 fellows) were reported unemployed as of December, although 11% of residents and 27% of fellows had not had commitments for positions as of April-May, and a survey we conducted for ASTRO showed that 6% (SE = 3%) of residency graduates experienced some unemployment shortly after graduating. The same pattern characterized the relatively small sample (24 residents) in the 1994 survey. (Note that we used the standard definition of "unemployed" - namely, not having work when one is seeking it. In 1995, there were two residency graduates not in the labor force - that is, not working because they had not wanted to be working. This situation typically involves a woman with very young children.)"
[Author's note: you can tell that paper was written in the 90s because of the women quip]
"In 1995, program directors said that 90% of residents and 85% of fellows had jobs that reasonably matched the individual graduate's training and employment goals. The percentage of graduating residents who had a position of this type did not differ (by the usual test of statistical significance -- p<0.05) between 1994 and 1995. However, the percentage of residency program directors who reported the difficulty of finding jobs was greater than typical of recent years increased from 29% in 1994 to 63% in 1995."
[Author's note: it is unclear to me what Sunshine means when he states that the jobs "reasonably matched the individual graduate's training and employment goals"]
Dr Sunshine goes on to express astonishment of what he considers positive findings, "particularly given common perceptions that 'there are no jobs out there' and the growing pessimism of training program directors". In trying to ascertain the pessimism, he offers the following:
"...when program faculty told us of an unemployed radiation oncologist, the story often involved someone who could look for work only where he or she trained, due to a spouse. Straightforward probability calculations show that if a physician has only a 10% chance of finding work in any one locality, he or she, nonetheless, has a 99.5% probability of finding work if he or she is willing to consider any of 50 localities. And there are literally hundreds of localities in the United States."
He also notes:
"Long term projections point to a future surplus of radiation oncologists, primarily because the radiation oncologist workforce is growing by at least 4% annually while the number of cancer patients treated by radiation oncology is likely to increase by at most 3% annually. Thus, a surplus of radiation oncologists of at least 1% a year, or at least 10% in a decade, seems likely to emerge."
He concludes by stating that
"there are strong indications that [the job market] is likely to deteriorate in the future".
In 1999, a report was published in The Red Journal from the Radiation Oncology Resident Training Working Group (organized by SCAROP). Ostensibly, this group sought to study and propose methods to enhance the training of RadOnc residents in America. Subcommittees were formed sometime before May 1998 (unclear when), and the findings of their work was discussed at the May 1998 SCAROP meeting.
The first subsection of the manuscript results explicitly studied the "surplus of radiation oncologists":
"A variety of studies have indicated that there is a surplus of radiation oncologists in the United States [Author's note: they reference only two papers for this claim]. The ASTRO Committee on Human Resources found that 165 radiation oncologists are entering practice each year, and only 45 radiation oncologists are leaving through death or retirement. This is reflected in the active membership of ASTRO, which increased from 2,318 in 1990 to 3,539 in 1998. This is an average increase of 150 members per year, or 5.5% per year. On the other hand, the number of patients being treated with radiation therapy in the United States is increasing at a rate of only 2.7% per year. Using these data, it appears that equilibrium would be maintained if the nation produced 130 radiation oncologists per year (45 FTEs to replace radiation oncologists who are leaving practice and 85 FTEs to take positions that become available because of the increased utilization of radiation therapy sources). The 1995 and 1997 ARRO surveys (J. Kresl, personal communication) indicate that some residents are having difficulty finding jobs. The 1997 ARRO graduate employment survey showed that 9% of the graduates were unable to find employment as a radiation oncologist, and 34% took positions which did not meet their first choice as a career option. Only 74% were in full-time practice (32% in academic positions and 42% in private practice). The remaining graduates were either in fellowships, doing locum tenens, employed in other fields, or unemployed."
Interestingly, the next section is called "declining numbers in training":
"There are indications that the number of applicants to radiation oncology residency programs may be declining, and if this is true, it should help ameliorate the problem of oversupply. The number of residency positions offered in the match has declined 29% from 1995 to 1998, and the number of positions filled in the match decreased from 90% in 1995 to 70% in 1998. Although this decrease may be partially offset by an increased number of resident positions that fill outside the match, the general impression is that the number of residents entering training is diminishing."
They end this section by drawing virtually the same conclusion being drawn now - the decline in residency applications will naturally balance out the looming oversupply.
In 2003, Lynn D. Wilson and Bruce G. Hafty from Yale published (in The Red Journal) "Evaluation of the National Resident Matching Program (NRMP) radiation oncology data (1993–2003)". They summarize Radiation Oncology in the 1990s as such:
"In the mid-1990s, programs were downsized and focus was directed on continued development of high-quality training programs that could meet appropriate accreditation standards. In 1998, training programs moved from the required 3 years (after PGY-1) to 4 years. The report on "The Status of Radiation Oncology Training Programs and Their Graduates" was published in 2001 and was a critical appraisal of the "market" and employment situation. The data were generated by responses of radiation oncology program directors to a survey. This report was hopeful, as it unfurled a message (as specified by the program directors) that residency training programs were decreasing in size, and that the applicant pool appeared to be improving in terms of overall quality. Also, evaluation of the employment market was performed through the perspective of 1997 graduates. This study revealed no compelling information provoking cause for concern over unemployment, nor did the data differ significantly from those reported from the graduating class of 1996. So, as evidenced at least by a survey of directors and graduates, the manpower supply situation seemed relatively stable as of the late 1990s. Much of the data generated on the subject of supply, demand, and subjective satisfaction has been provided via survey format and American College of Radiology data."
Per Dr Wilson and Dr Hafty, it appeared that SCAROP's assertion that decreasing the number of programs and applicants was indeed balancing out the concerns of an oversupply. The following table was published [
Author's note: I modified it to just see the latter half of the decade
]:
As demonstrated by the data, the number of training positions fell from 99 in 1997 to a nadir of 81 in 2001, a drop of about 18%.
To summarize, by the mid-1990s there did indeed seem to be concern by the leadership over the job market of Radiation Oncology based on the growth of the specialty in the 80s, and supply was outpacing demand. This was clearly trickling down to medical students, as, in the absence of SDN and Twitter, applications were naturally and drastically falling (by published accounts). This was compounded by an acknowledgement of the issue by programs who voluntarily contracted, and increased the time of training from three to four years. In the span of 5-7 years, these actions at least stabilized the profession.
But, between 2001 and 2003, positions jumped from 81 to 107. Why?
The 2000s: The Golden Era
IMRT happened, of course!
If you search for the "history of IMRT", there are many reviews talking about the technology itself. However, it is difficult to ascertain when IMRT was widely adopted. On the AAPM website, there is a PPT Presentation from June 2003 by Steve Webb entitled "Historical perspective on IMRT". Webb provides the following slide:
These times are important. By 2000, "all major companies [are] offering products", and by 2003 (when this PPT was created) "everyone wants IMRT".
This lines up well with the sudden jump in RadOnc positions (word-of-mouth between medical students was also a factor, which I will discuss below)
Webb also has the following slide, which includes a very important point: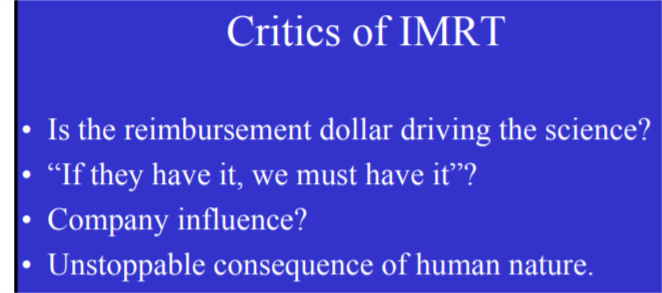 "Is the reimbursement dollar driving the science"?
As we all know, IMRT subsequently became the workhorse of Radiation Oncology. While it undeniably produces many benefits for patients, a side effect is that it produces many benefits for the bottom line of physicians, departments, and institutions across the country.
In 2005, Andre Konski published "Cost–effectiveness of intensity-modulated radiation therapy". The following was presented (studying prostate cancer specifically):
"The mean Medicare reimbursement to the Fox Chase Cancer Center for 14 men undergoing IMRT was $24,953, normally distributed, with a standard deviation of $2039. The mean Medicare reimbursement to the Fox Chase Cancer Center for seven men undergoing 3DCRT was $13,900, log-normally distributed, with a standard deviation of $2547. Costs were adjusted to 2004 US dollars".
Innumerable analysis of the costs of IMRT have been published and I won't belabor the point. The take-home is that significantly more revenue could be generated from radiation therapy. This balanced and bolstered the "demand" side of the economic equation for our specialty.
In 2001, programs had contracted to their nadir, with 81 spots in 48 programs. Concurrently, applications to RadOnc exploded, with 214 applicants, more than double the number of applicants in 1998.
So, what happened? This is somewhat unclear to me. Did ASTRO run some sort of awareness campaign? Was there some push to recruit students? I'm still investigating.
However, we're now at the beginning of the Student Doctor Network forums. SDN RadOnc was launched on August 4th, 2002. Prior to that, there were three threads discussing Radiation Oncology, which Lee (SDN admin) merged into the nascent forum.
In trying to piece together what was going on in RadOnc at the time, there are some interesting posts, which are eerily similar to what we see today. I would encourage you to go back and read some of the threads from 2001-2003, just for entertainment value alone.
In 2003, people were trying to figure out why RadOnc suddenly became popular:

I believe the post by AlexanderJ summarized what was happening well:
There was an increase in "buzz" about RadOnc
Students were becoming increasingly concerned with not having their work/life balance destroyed
IMRT was all the rage
What does this look like from the leadership side of things? One can only imagine. Whereas a few short years prior there was concern over declining applications and a tough job market, now your department is flooded with amazing residency applicants and you're generating far more revenue with IMRT. What's the only logical thing to do? Expand, of course, which is what they did:
The expansion started around 2003 and continued from there.
I would consider the decade of 2000-2010 to be the true "Golden Era". Because of the efforts of the leadership in the late 90s, there was a dip in the supply of new Radiation Oncologists for several years. Concurrently, the development of IMRT significantly increased revenue, and residency applications were numerous and amazing. Therefore, the expansion which took place was logical, given the milieu.
2010-present: The Gilded Bubble
I won't explore this in depth, but in 2010 Ben Smith's infamous paper predicting a massive shortage of Radiation Oncologists was published. While there was likely a "greed" component, I do believe that most departments expanded out of good faith, at least in the beginning. And why not? The predicted collapse of the job market never happened, the best and the brightest are clamoring for a place in the field, reimbursements were amazing, and now there was published evidence of a looming shortage.
The final piece I'll touch on is the oft-argued point that may of the new or expanded residency programs are "bad" in that they don't offer robust education or training. If all these expansion spots offer sub-par training, how do they continue to exist? How do they not collapse naturally? Obviously, whether a program is "good" or "bad" is a soft assertion and difficult to measure. I would posit the following: given the extreme competitiveness of Radiation Oncology, only the "best" students apply and match (even at "low tier" programs). How are you considered the "best" in medical school, or at least competitive for Radiation Oncology? Through board scores, course grades, and research. To do well on the boards (and in your courses), you need to have strong self-study habits. To succeed in research, you need to have tenacity and cunning to find and insert yourself into projects. Medical students are, by their nature, type-A people who have done well in school their entire lives. You then enrich this population for the best of the best. Everything you need to pass the boards and become a board-certified Radiation Oncologist is available through books, papers, audio lectures, regional courses, etc. You could have the "worst" training in this country but as long as you're motivated enough, you can find study resources adequate to pass the boards. Therefore, these tremendous students/residents "make up" for the poor training by the virtue of the characteristics which got them into the field in the first place.
Alright, time for the "too long, didn't read" summary of my argument.
I'll let you decide if my interpretation of the past is reasonable or not:
There was a growing concern in the mid-1990s that there was an oversupply of Radiation Oncologists in America.


This was addressed in three ways
1) As the poor job market news trickled down to medical students, there was a decrease in the number of residency applicants
- the peak was in 1995 with 168 applicants
- the nadir was in 1998 with 96 applicants

2) As the poor job market was acknowledged by departments, there was a decrease in the number of positions and open programs
- the peak was in 1995, with 127 spots in 65 programs
- the nadir was in 2001, with 81 spots in 48 programs

3) Additionally, Radiation Oncology residency training was turned into a mandatory four year program in 1998, whereas only three years were mandatory previously


These three factors significantly reduced the supply side of the job market for many years


In an almost unbelievably timed fashion, IMRT was released and widely adopted in the early 2000s, a technique which generated far more revenue than 3D-CRT, thus significantly increasing the demand side of the job market


The exclusive nature of the RadOnc, as well as the advent of IMRT, made Radiation Oncology a well-paying specialty with an extremely attractive work/life balance, and residency applications skyrocketed as medical students sought more reasonable careers


This occurred almost simultaneously with the nadir of voluntary contraction
- in 2001 (with 81 spots in 48 programs), there were 214 applicants, more than double the number of applicants in 1998


Thus, Radiation Oncology - historically competitive due to the small number of training spots - was transformed into an incredibly competitive specialty in a short amount of time


Given the high potential of IMRT reimbursements coupled with the increased number of stellar applicants, departments and programs almost immediately began to expand (2005 saw 137 positions offered among 75 programs)


This expansion was supported, in part, by how competitive Radiation Oncology was to match into. "Competitive medical students" almost invariably means high USMLE Step exam scores, which means excellent test takers. Programs which may not offer the best training are buoyed by residents who will be able to pass the boards with self-directed study. If residents are becoming board certified, there is no other objective way to indicate "good" vs "bad" training.


This expansion was bolstered in 2010 with the infamous Ben Smith paper stating that "demand for radiation therapy is expected to grow 10 times faster than supply between 2010 and 2020"
More recent history (the past 10 years) has and continues to be discussed frequently on the boards.
My belief:
In the early 2000s, IMRT arrived in time to "save" the field. Given it's unbelievably fortunate timing, people now look back on the history of the specialty with rose-colored glasses - remembering a time when there were significant concerns over the job market, but knowing that it "all just worked out". It didn't just "all work out" - a paradigm-shifting tool was introduced to Radiation Oncology at literally the time it was most needed.
There is no apparent version of IMRT today. Regardless, APM is poised to be "technology agnostic" and a "slam-dunk" technological innovation will not and cannot have the same impact now as 20 years ago. Additionally, the CMS direct-to-general supervision change will place further downward pressure on the specialty (regardless of the statements by ASTRO or the AMA).
The only way to preserve the health of the specialty is to significantly reduce the number of residency spots and balance out the supply side of the economic equation.