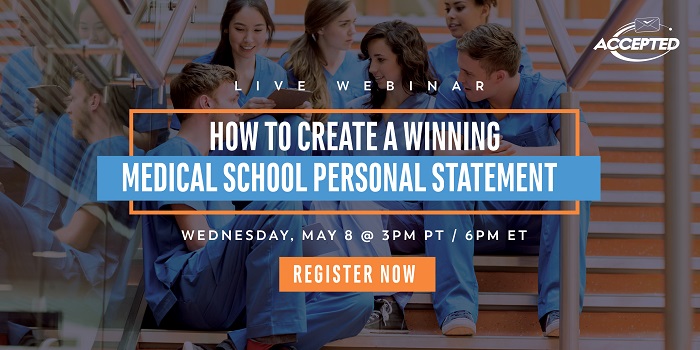 After years of work as a premed, you're ready for the last hurdle before med school: the actual med school application process. You can do it!
One of the things that makes the personal statement portion of the application both challenging and exhilarating is that you have total control over it: you can't go back in time and redo your grades, but when it comes to your essay, it's all in your power.
That's also why the essay is such an important part of the application. It's a chance for the adcom to learn something about you as a person that they may not get from the rest of your application. This requires careful thought and attention, which is why we've created our webinar,
How to Create a Winning Medical School Personal Statement
, presented by Lolita Wood-Hill, Accepted's newest pre-health consultant! You'll learn specific, action-directed steps you can take to approach the personal statement successfully. And because we know premeds are busy, we've packed it all into just one hour, on Wednesday May 8 at 3pm PT/6pm ET.
Don't miss it – reserve your spot today!
​
This article was originally posted on blog.accepted.com
.
Applying to medical school? The talented folks at Accepted have helped hundreds of applicants like you get accepted to their dream programs. Whether you are figuring out where apply, working on your AMCAS application, working on secondary essays, or prepping for your interviews, we are just a call (or click) away.
Contact us
, and get matched up with the consultant who will help
you
get accepted
!
Last edited: