Will Walk Rope for Sandwich
Moderator Emeritus
7+ Year Member
Joined

Oct 22, 2013
Messages

8,596
Reaction score

19,839
One immortal "feature" of SDN is handwringing about how much undergraduate prestige matters and in what situations. It is very hard to gain an objective foothold on this question and most of us have a sense that "yah, it matters -- but not
that
much, it won't save an otherwise poor application, and probably only matters at schools that value that certain
je ne sais qois
in their applicants (*cough* Harvard *cough*)." One of the reasons this is a difficult question to answer is that, unlike most MD/PhD programs, MD programs do not post their directories for the public and, if they do, they do not list the undergraduate institutions of their students. Luckily for us, Yale School of Medicine posts a
yearly bulletin
in which they list the undergraduate institutions of each member of their graduating class that year.
I took the liberty of altering the
same Python script I used to look at the possible 'prestige' bias of dual-degree admissions.

This time, the script converts the PDF bulletins to text, and (exploiting the fact that the syntax of graduate listings in every bulletin is identical) searches for the undergraduate institutions of the graduates, counts, and categorizes them.
I looked at 11 years of data -- graduates of Yale SOM from 2007-2017 -- and split them up into 5/6 year chunks in order to see if there were any interesting differences. Here are the results. T30, 20, 10 refers to the Top X undergraduate institutions according to USNWR in 2017. HYPSM refers to Harvard, Yale, Princeton, Stanford, and MIT, respectively.
Table 1: Proportion of Graduating Class Coming from Top X Institution During Z years.
If we include the Top 20 / 10 Liberal Arts Colleges in these calculations (which are ranked separately in USNWR and therefore do not count towards the above table), the proportions are a little higher:
Table 1b: Table 1 including Top 20, 10 Liberal Arts Colleges

Next I looked at the volume of students from X undergrad who graduated from Yale SOM. In other words, I tried to find the possible "feeder" schools and general trends in "undergrad diversity".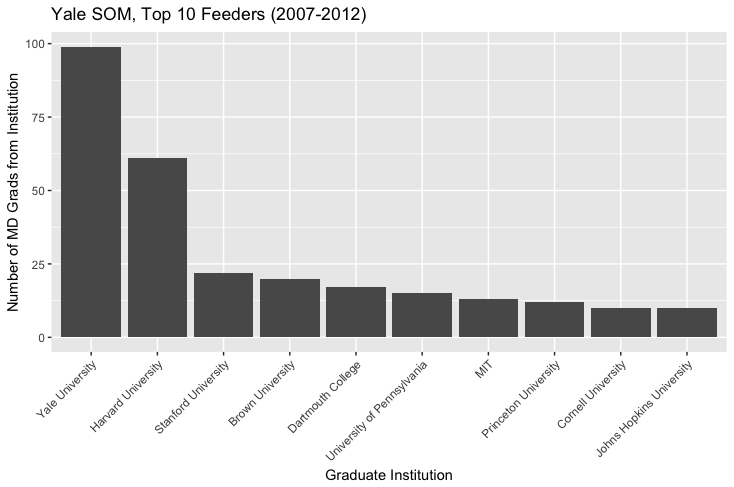 And here are data from both plots aggregated over the past decade: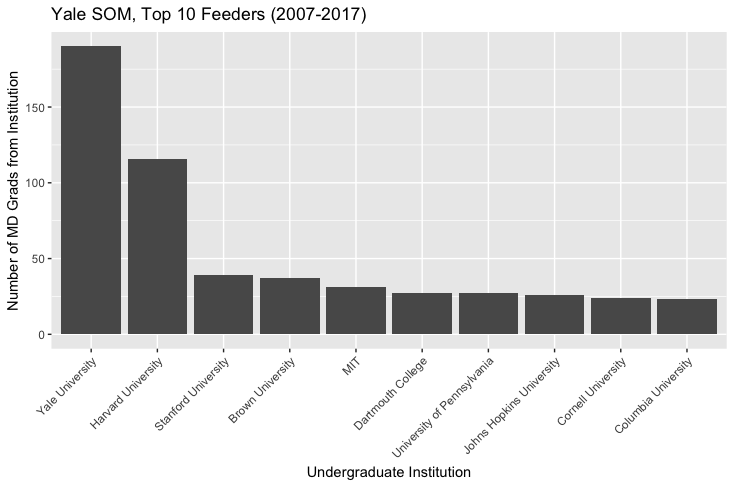 From 2007-2012, the total number of undergraduate institutions represented in Yale SOM's graduating class was 86. From 2013-2017, 81. Overall, from 2007-2017, 116 undergrads were represented in the graduating class.
The five number summaries for the feeder data sets are as follows. (min, 25th percentile, 50th percentile, 75th percentile, maximum):
2007-2012: 1, 1, 1, 3, 99 (mean = 4.62)
2013-2017: 1, 1, 1, 4, 91 (mean = 4.78)
2007-2017: 1, 1, 2, 5, 190 (mean = 6.88)
The mode in every data set was 1.
The five number summaries for the feeder data sets only taking into account the top 10 feeder schools are as follows:
2007-2012: 10, 12, 16, 22, 99 (mean = 27.9, mode = 10)
2013-2017: 10, 14, 16.5, 18, 91 (mean = 26.4, mode = 14)
2007-2017: 23, 26, 29, 39, 190 (mean = 54, mode = 27)
Thus, showing that the top 10 feeder schools send several times more matriculants to Yale School of Medicine than even the 25% most represented undergrads in the general matriculant population.
So, most schools (>50%) who send students to Yale SOM send only one student, meanwhile, the top 25% of schools send 3-4 and (as you can also see from the plots of the top 10 feeders) a small number of outliers send dozens. Yale University is, unsurprisingly, the biggest feeder for Yale SOM, given that prestigious schools tend to have much more "inbreeding".
Graduate Degrees

A large number of Yale MD grads had graduate degrees upon graduation (~33%). Yale offers a competitively funded fifth research year to its students where they can earn a MHS (Master of Health Sciences) degree prior to graduating. Working under the assumption that all of those graduates who
did not
earn an MHS from Yale earned their graduate degrees prior to matriculating to Yale SOM, I made another plot of the top 5 "graduate feeders" to Yale. All of these graduate degrees are non-doctoral degrees. Excluding MHS holders, 112 of 922 (12%) Yale grads had additional non-doctoral graduate degrees upon graduation, ~50% of which came from Yale or Harvard.
Of 112 graduate degree holding "matriculants" (again, this is more of a speculative term given that I dont know when people earned these degrees; safe to say, any grad degrees not from Yale were almost certainly earned before medical school), 16 of them did not go to a Top 30 undergraduate institution (most went to Top 20s). Of those 16, 12 of them (75%) received a graduate degree from one of the 5 institutions represented in the above graph.
Not Surprising:
- Top Echelon medical school has mostly students from top echelon undergrads
- Yale SOM favors its own undergrads
- Vast majority of schools only send one student to Yale
Surprising (IMO):
- I did not expect the proportion of T30,20,10 to be so high. HYPSM was actually about where I imagined it would be, around 1/3 of all students, since I've always speculated that HYPSM give the most significant "prestige boost" of all undergrads and my anecdotal knowledge of these schools from experience / friends / etc. tells me that these schools are very well represented at top med schools.
- The skew of representation is pretty severe. The mean is obviously skewed to the right given the kind of distribution we're looking at, but even then Yale and Harvard alone are sending 15-20 times as many students as the statistically "average" school.
- The proportion of med students coming from the Top X undergrads has stayed remarkably constant through the past decade in spite of MCAT scores and GPAs creeping up for years. Remember, these are
graduates
of Yale SOM, so they
entered
4-5 years prior to the year marked on the bulletin. 2001-2 was an entirely different world in terms of overall competitiveness for undergraduate and medical schools when compared to 2012-13. I think this is compelling evidence that weighing undergraduate institutions is a
systematic
practice of medical school admissions (at least at Yale, to be fair) and not simply a product of "the most competitive applicants always being at the most competitive undergrads". The latter explanation has some truth to it -- to be sure, the average Harvard applicant is probably a lot better than the average Kutztown applicant -- and it probably was even more true in 2001-2002 when undergrad admissions were
significantly
less competitive. It is also worth considering that Yale has historically shown a lot of love to non-traditional students, so these students might have graduated 2 to 3 years before that, even, on average. Just 10 years ago in 2007,
Harvard's acceptance rate was nearly twice what it is today
(the same is true for its peer institutions). Not that far back, in 1995,
Penn had an acceptance rate of 30%
. Combine that with the fact that the cost to go to college, graduate school, not starve, pay rent has all gone up rapidly in the past decade and you can't deny the fact that, today, more and more very bright, very competitive students are either not able to be admitted or able to comfortably afford going to prestigious, private undergrads (if they dont qualify or earn the generous aid these schools might offer). In the case of Yale, no one will deny that Berkeley is an academically comparable institution, and yet Harvard students outnumber Berkeley students at Yale SOM over the past decade by 5-6 times; Yale students, 7-9 times.
Notes
- International students (rather, anyone who studied at an international institution for undergrad) were excluded from any figures reported here. From visually inspecting the data, I saw a lot of "Oxford", "Cambridge", and big Canadian universities (McGill, Toronto).
- sooooo many yale students have graduate degrees. So many, in fact, that making sure I wasnt capturing graduate institutions was probably the biggest hurdle in altering my script. I'm interested to see where these graduate degrees are from. Upon inspection, I feel like a lot of students are getting grad degrees at Yale. I'd like to know what proportion of students from Top X undergrads have graduate degrees from Top X school before coming to Yale -- might be interesting, might be pointless.
- If anybody knows of similar documents for other schools, I'd be happy to do this for that school.
@efle
@Lawper
EDIT 08/03/2017: Fixed a bug in my program that failed to download all of the correct pages of the school's PDF bulletin. I have fixed the script and reproduced the graphs, the graphs you see in the OP from 08/03/2017 onwards are correct. The problem arose because of the way my browser indexed the pages of PDF downloads. I verified that the fix worked by counting two years of graduates by hand and the number of graduates counted by my script and by hand matched perfectly on both accounts. I also added five number summaries for the top 10 feeder schools only, and some plots for grad degree holding MDs.
Last edited: