Joined

Jul 28, 2017
Messages

30
Reaction score

33
Hi everyone,
I took the DAT yesterday and after seeing all of the 22s 23s 25s on here I felt a tad disappointed that my AA was more average. I wasn't going to do a breakdown or anything but I figured what the heck I studied too damn hard for this test not to feel proud of myself.
Perhaps my DAT story will be entertaining or maybe something I have to say can help.
Here's what I got:
AA: 20
TS: 21
PAT:19
BIO: 22
GenChem:21
OChem: 20
RC: 19 ?:/
QR: 18
*First off, I'm lucky I made it in the morning of my test because some of the craziest stuff happened the night before. My roommate and I ended up with a random student at our door who had been stabbed and didn't have a phone. I swear I can't even make this stuff up! **He's IS fine and we got him help** but I didn't sleep because of all of this and I was definitely freaked out by the whole thing.
Anyway...
I got to the testing center and just felt awful but I was determined to put everything to the back of my mind and focus on the most important test of my life.
Bio: 22:
Cliff's, Feralis, Bootcamp, Destroyer X2, Crashcourse (thanks Hank!!), and Coursesaver DAT Biology videos
I'm happy with this score. Similar to what many others have said, the questions are either very simple or worded funny so that you start to second guess yourself but in general they are pretty broad. I will say three of my questions seemed to come right out of destroyer which made me extremely happy that I went through it twice!
GenChem: 21:
Chad's Vids(amazing comprehensive review), Destroyer, Bootcamp,
Hardly any calculation problems but definitely some tricky conceptual problems. I thought this section was most similar to bootcamp (minus the heavy calculation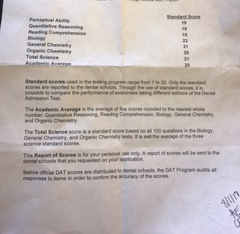 ).
Ochem: 20:
Chads, Destroyer, Bootcamp
This is where things started to fall apart for me. If there was a section I thought I could get a 30 in, it was ochem. However, my test was extremely difficult and oddly specific. I never would have dreamed that I would face an ochem section like this. For everyone I've seen, the consensus seems to be that ochem on the DAT is much like bootcamp and, for what ever reason, mine was way different.
This is where Destroyer is a MUST. Some people think it isn't necessary but the difficulty of this thing varies and you have to be ready for the hardest stuff they can throw at you. I only wish I had gone through it a second time to really solidify things.
PAT: 19
I don't have much to say about this section. I was never excellent at PAT. Bootcamp is very representative of the DAT minus the awful software the have going on (on the DAT...bootcamp software is great). I was averaging around a 21 on PAT and as it got closer to the time of my test I stopped focusing on it to hit my weaknesses hard. I guess this is why I saw a drop. I had a cube counting structure that was the worst thing I have ever seen in my life. No matter how many times I looked away or rubbed my eyes I could not tell what the heck was going on there.
*
Break
: At this point I 100% thought I bombed ochem. As crazy as it sounds after seeing my actual score I was convinced I didn't even make a 17. All I could think about was all the hard work I had put into this going down the drain because of one section. I started to panic and it seemed like everything from the night before, no sleep, and just all the stress of this future-determining test hit me at once and I had a mini breakdown. I'm usually not one to do this so I tried my absolute best to pull it together and go back in to finish what I had started.
Reading: 19:
Bootcamp only
Classic example of how much damage getting all worked up can do. I took four bootcamp tests after finding a method that worked for me and scored above 23 on all of them.
I was shaking so bad and just felt so spacey and unfocused. The more behind I got on a passage the more I freaked out and the harder it was to pay attention to what I was reading. Needless to say I was so happy to be done with the torture this section put me through but I knew that I did NOT perform to the best of my ability and obviously feared the absolute worst.
I know this is a strong suit of mine and this score could have really helped my AA. Ugh! It is what it is.

QR: 18:
Bootcamp, Math Destroyer, A mixture of the different materials you all suggested
By this time I had calmed down and managed to regain some focus. I am honestly happy with this score. From my disastrous 2009 score it is a huge improvement. I focused the last couple of days on QR alone and learned so much. Once again, the time got me. Building speed is just something that takes time. I thought it was easier than bootcamp but some of the word problems take so much time!! Skip those even if you know how to do them and go back! I had to guess on the last five or six and they were freakin median/mode easy questions. Yeah, I was pretty annoyed with myself. The quantitative comparison questions were much more straight forward than bootcamp. I know that schools would rather see a low score in QR than a low score in one of the sciences so it is what it is. Thank you to ALL that offered me fresh material, advice, and encouragement for QR.
**I had legit tears as I was going through the end survey and was prepared to go home and start studying for the next time I had to take this dumb thing. As it turned out I didn't do so bad. I came out puffy-eyed and mentally exhausted when the lady who watches the cameras ask if I was okay. I chuckled as I imagined what it must have been like to watch the dramatic ass show I put on in front of that thing. After all this mess I went home and crashed so hard.
I'M FREEEEEEEE

SO... If you are an anxious person, make sure that you have some way of calming yourself down in situations like this. I wish I did! At the end of the day and in the grand scheme of things, this is just a test.
Also, I kept reading on here that people were soooo sure that they failed a certain section during the break time and it turns out just fine for them. I don't know why I thought I was an exception to this with an actual 15 on ochem. You
don't
know how they score the test and you are bound to remember the difficult questions more than the easy ones you got right. Making assumptions will just get you in your head. You have to remain calm or you'll end up panicking (like me).
I know my scores aren't stellar but I put so much time and effort into this. I had my moment to mourn the loss of that 23 I thought I was going to get but I can confidently say that I am happy.
SDN has been a constant source of encouragement for me! I had friends that would get so upset when I couldn't hang out and just couldn't fathom why I would quit life for 2 months to study for a test. Getting on here always reminds me that I'm not crazy and I'm not alone!
Ask me anything! I would be more than happy to answer any questions you might have about the exam
-ALI

Last edited: