Full Member
7+ Year Member
Joined

Feb 29, 2016
Messages

63
Reaction score

66
First post here. Studying throughout June, I felt all the breakdowns and tips posted here have tremendously kept me motivated. Since I benefited from them, I hope I can give back with my own advice and what worked for me!
Scores from 1st to 2nd:
PAT 16 -> 26
QR 16 -> 19
RC 21 -> 23
BIO 23 -> 23
GC 20 -> 23
OC 16 -> 22
TS 20 -> 23
AA 19 -> 22
Some background, I started studying during the summer of 2016. Unfortunately, I was also balancing a summer class per session and I ended up burning out before the July exam and postponed to Thanksgiving break. Of course, I barely studied during the fall semester and was basically forced to take the DAT with only a few days of quality preparation due to not being able to postpone further to December. Moral of the story: avoid taking summer classes while DAT studying and know your possible timeframe before postponing!
For this time around, I knew if I made my study schedule too spread out, I will burn out and retain less information in the long haul. So I condensed the Bootcamp 10 week schedule into 4 weeks with no rest days and did my best to follow. It did get very stressful once I got to doing Destroyer questions.
PAT: Bootcamp is all you need to practice! I was using CDP before, but the keyholes and pattern folding were too easy compared to the actual PAT. CDP is a great resource to start with and familiarize with each PAT section, but don't depend on it! The hardest section for me were keyholes and angles. The right click elimination of answers is crucial for both these section for speed. Keyholes require diligence to details while angles need to be drilled. A week before my exam, I was using the angle generator every night before bed. I used a combination of techniques such as the rapid eye, hill steepness, and then complement/supplement angles if all else fails.
QR: I've always been slightly mathematically handicapped (had to Q drop Calc 2 twice, whoops). Studying for this section was very discouraging and required some persistence. Although I only did the first 5 Math Destroyer exams, I went through most of the QR through Bootcamp. I was very nervous about the QR Comparison, but those were actually the gimme points! Also, learn how to use the calculator function! You can shave off minutes by using MS, M+, etc although I still ran out of time in the end.
RC: I never liked the idea of the Search and Destroy method. It seemed too stressful and could be risky. Instead, I read every passage within at least 5 minutes and frantically highlight as I go. I got super lucky with two neurobio (my major) passages which I zoomed through because the last passage about bridges and was very difficult. The trick overall is to convince/lie to yourself that the passage is really interesting.
BIO: With a great background in biology, I didn't focus too much on this section. I did go through and highlight both Feralis and Ty's Biology notes. Also, I had very detailed notes from the Kaplan Blue Book that I would periodically read to refresh. Of course, some questions from Destroyer and BC is perfect to gauge where you need to focus. Make a list of mnemonics as you go through the material and compile them all into one sheet of paper! It'll come in very useful when cramming the last few days. Also I got like three questions that I knew thanks to DATQVAULT.
GC/OC: Chad's videos and quizzes are very helpful for a solid foundation. I would take notes on the outline and focus on concepts and how to apply equations rather than trying to memorizing each type of questions. I found this helped me with problems which I wasn't exactly sure what they're asking for during the DAT. After the few hundreds of problems from Destroyer and BC, you should be good to go. Similar to biology, write down any concepts and relationships you're struggling with into one piece of paper.
The week before the exam, I did the five full length exams from bootcamp and treated it exactly like I was taking the real DAT. I took the practice exams at exactly the same time as my real DAT (12pm). An hour before each full length, I would review my notes and sheets of papers with concepts I was struggling with. When you're done, make sure to review the entire exam as best as you can. The weekend before the exam, I skimmed and reviewed the Destroyer problems I did and BC. Many people insist to not study the day before the DAT. But really, do what works best for you and treat it like any other exam in undergrad. For me, I have to go through the material to feel refreshed and confident, but ended up doing 12 hours of studying Sunday. Don't feel ashamed looking at your notes right before the DAT either, I might have answered at least three science questions correctly just from lightly reviewing the morning before. As evident from my QR though, fatigue did eventually set in so you know yourself better than anyone else and decide for yourself.
This breakdown turned out to be much longer than anticipated. I hope this could be somewhat useful to someone out there. A few closing advice: get a good night sleep, don't schedule your DAT in the morning if you tend to get anxious at night, eat healthy, avoid drinking alcohol until after, and most important of all, aim high, keep calm, and psych yourself up before!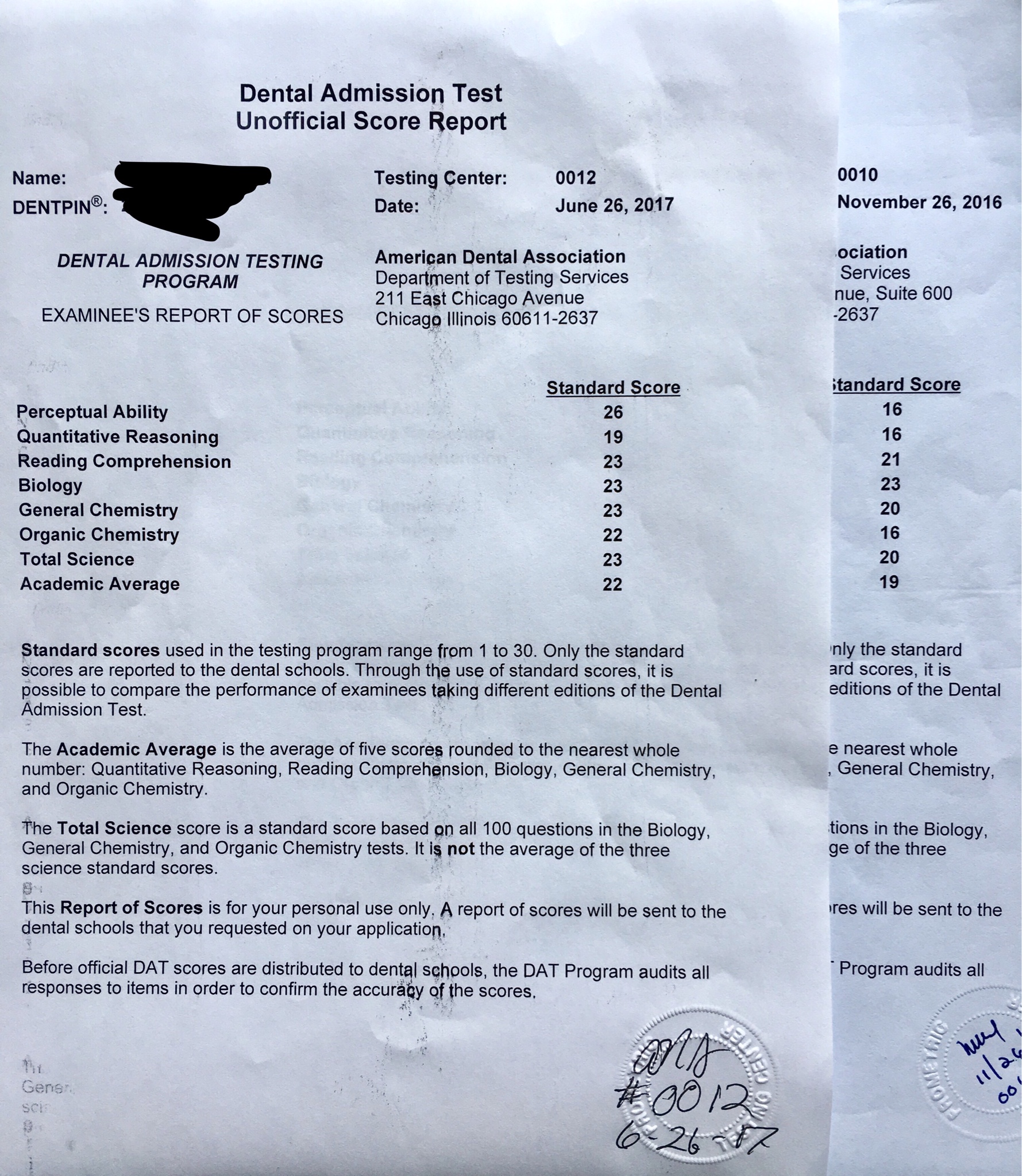 Edit: I forgot to add, I would also listen to Chad's bio videos while driving or walking. You'll be surprised how much you accidentally pick up from this! Also for PAT on the go, if you have an iphone, look up DAT Angle Ranking and Hole Punching by Bao Tran on the AppStore.
Last edited: