Joined

Sep 4, 2023
Messages

13
Reaction score

3
Hello
To introduce myself, I am a student who completed one year of university but I recently came across a program offered by a private institution called CIMT (located in Canada). They offer a 1 year program that matches the "pre-medical" year that these 5-year Caribbean MD schools offer (1 year premed + 2 year basic science + 2 year clinical science). Some of the pros I defined to myself were: I will saved 3 ish years and it could possibly be a shot at an MD (literally thats all I have down).
I understand the current stigma that is surrounded around the Caribbean and I agree with it too. The reason why my parents and I were so convinced with this program was that we have family friends who went to a TOP 4 Caribbean institution and ended up getting competitive residencies.
Another thing I would like to note is that I will be classified as an IMG anywhere I apply. I hold a Canadian citizenship, and as per PracticeinBC.ca, if you hold a Canadian citizenship and apply for residency in Canada, you will still be classified as an IMG. The same goes for the US.
I have attached a table below showing the only institutions CIMT is affiliated with. Anyone is free to use this table.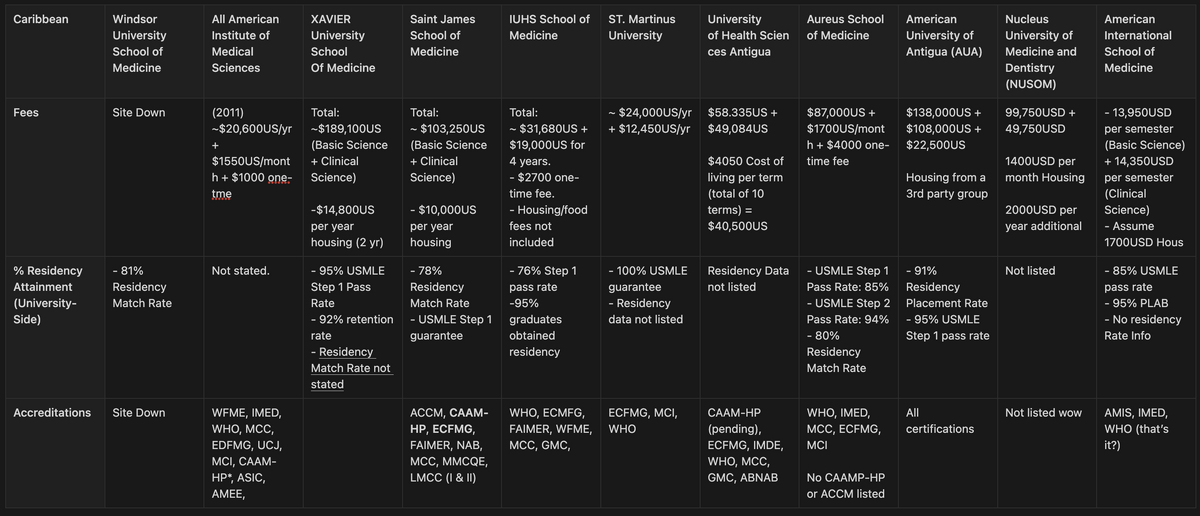 Generally, XAVIER and AUA would be the safest options (AUA is after all American University, but comes with a hefty price)
However, I would like to ask, should I really do this? I have not come across anyone who has done/is doing what I am doing (besides my classmates). The only people I know have only went to the TOP 4.
I have watched the Med School Insiders video as well as some of Dr. Gray's podcasts on the Caribbean and I came off pretty anxious as the gist of what he was saying was to a) don't go unless you HAVE to and b) don't go to a school that doesn't look at MCAT.
I have a 2 other options, however:
1. I could continue my degree as a trad applicant in Canada and apply. Maybe attempt US MD/DO schools if I meet the prerequisites. Then ofc attend T4 Carib.
2. I could pursue engineering or some sort of professional degree before attempting Caribbean (if I must). If my GPA comes out good then perhaps try for MD locally.
3. Maybe other schools internationally and then apply for US/Can residencies. Any recommendations?
I appreciate all the help I get in advance. I am just looking for advice here