So my question isn't specific to any AAMC questions, just understanding the method in the passage. In the passage, I know that the scientists are trying to know where the specific mRNAs are located: the plasma membrane or the cytosol. But how could they know that after doing cell fractionation (when the plasma membrane is destroyed)? I don't know how they know which mRNA associate with which location.
I'm confused with the highlighted part below. I tried googling about cell fractionation and real-time PCR and everything but I still don't get it. Is anyone familiar with this technique? Thank you so much!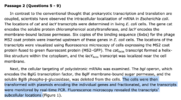 Here's the rest of the passage but I don't think it's related.