My question isn't tied to a specific question, just understanding this one piece from the method. I'm confused about whether the cells they isolated are
mature fibroblast
or
embryonic fibroblast??
Does it seem like there's a discrepancy between the text and the figure? Judging from the answer key and the passage text, I think they are studying mature fibroblast. However,
Figure 1
is showing "isolation and expansion of embryonic fibroblasts". Passage attached. Thank you so much!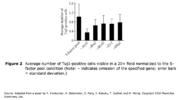 How I infer that it must be mature fibroblast:
* The passage says: "it has been shown that fibroblasts can be reprogrammed to a pluripotent state with a combination of transcription factors. These results have caused scientists to question whether specific transcription factors could induce other defined somatic cell fates and not just an undifferentiated state."
* A portion of the answer key says: "fibroblasts were isolated from postnatal mice, no embryonic cells were used in the experiment, which involves the conversion of one adult cell type into another adult cell type."