Full Member
5+ Year Member
Joined

May 11, 2015
Messages

53
Reaction score

25
Hey there, hope everything is going well with everybody. I just received my NBDE part 1 on the mail and i passed! I would like to thank everyone in this forum for helping me pass this exam. I'm going to try to leave a little info on my personal experience going thru the NBDE part 1, I know there's a lot of information on the site already about this but here we go!
I grew up here in the U.S. but due to some family issues on my mom's side of the family "Brazilian" I went to Brazil with her about 7 years ago, so while I was there I decided to start going to dental school since I had plenty of time, it was a full time, 5 years program, at first I had a little trouble with the language, but managed to handle it pretty good, so after I finished dental school I decided to come back to the U.S. and start the whole validating process.
I tried the NBDE part 1 for the first time in June "fail", I bought a bundle of books from somebody on ebay, it had pretty much all the books most people here suggested me to study from, (First aid, Mosby, Kaplan, Dental decks 2009, etc… )
I really didn't think it was going to be a problem to pass this exam even though I never liked Biochemistry, microbiology too much back in the university, so i looked really quick thru those books and decided I was only going to study from Dental decks 2009, i read those cards once and decided to do the exam. I never took a break from the dental office in Brasil, I got into a plane and went to the U.S. just to take the exam and went back, lol. Bad idea! The dental anatomy and occlusion was pretty easy, but Biochemistry and Microbiology stuff I didn't liked too much got me good! Hahahaha so I got an 74%, close but not enough!
So I decided to take my second try more serious, i only went to the dental office 2 or 3 days a week, and stayed at home those other days I wasn't working studying, I followed all the advises from the forum that I thought it would work best for me, and this is my opinion of the best material to study from.
1) Dental decks = it pretty much have everything you need, but in my opinion i thought it was a lot of information crumpled together, so i thought it was harder to absorb everything, so I would suggest that as you go thru the flash cards take notes of everything you don't remember seen in other books, or that you don't remember seen in school! I started reading all the flash cards by sections (anatomy, biochemistry….) and taking notes by sections, that way when I wanted to study a specific content it was easy to find.
2) ASDA release papers = I never liked studying thru previous tests, because I always had the idea that you tend to memorize questions and not know what they are talking about too much, but i changed my opinion about this, I think that ASDA is fundamental, whenever I would come across a question that I didn't understand I would look it up here at the forum and most of the time there was an explanation here on the forum for the same question, witch helped me understand the question and not memorize it.
3) Dental board Mastery APP = Is pretty much all the questions from ASDA in an APP, BUT they explain each question, so you learn a lot from it, plus you can pretty much study anywhere with it on your phone.
4) Google = every time you don't understand a simple word or a term, look it up on google and make sure you know what that word or term means, I got a few correct answers just by knowing what a simple term means.
5) Important things that you just cant get it to stay in your head, do this! lol and whenever you're bored, just look at your wall! hahahaha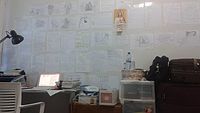 And that's pretty much it, take your studying serious, is not the most difficult thing ever, but you do need to put in sometime to ace it!