Joined

May 19, 2017
Messages

4
Reaction score

0
Hey, there! I'm going to be typing this in a rush since it's nearly 2:30 am and I have to wake up at five for school. Anyways, I just want to start off with a little about me (note: "little" is an understatement). If you're willing to read, then please do so. I honestly don't know what to do.
I personally think I am an average individual when it comes intellect. I'm not a genius, or even above average, but I don't think I am below average either. Though I'm probably very close to below average, aha. Since the 8th grade, I've had a few major medical problems that surfaced. For instance, I have a hormonal imbalance and mild depression (I'm better now). There are days I can sleep for 20 hours without waking up. I also get my period every five to eight months. I'm going to get another blood test taken to pinpoint what's up in a few weeks. I'm working on the rest, too, I've got a great circle of friends that I have been going out with and I've been going to the gym as of late to help with the hormonal imbalance that is caused by a sedentary lifestyle.
I currently have a 2.2 GPA for 1st semester (6.0 scale; even less with a 4.0) and I'm going to be a junior next year. That's pretty darn bad and it is 100% my fault, I know. In both freshman and the 1st semester of sophomore year, I didn't try whatsoever. In fact, I almost didn't obtain credit for freshman year because I missed many days throughout the school year since all I wanted to do was sleep. I slightly got my act together during the end of 1st semester and talked to my counselor about dual credit classes (college). She told me to take the TSI and that if I were to pass the reading and writing section, I'd be able to take the classes. I took the test and passed on my first try as English is my best subject, and am now enrolled in the program. Retaking math since I failed, though. It's $162/per class, so I'm definitely going to make sure that I pass each and every one lol. By the end of senior year, I will have my general studies associates (61 hours) and a veterinary assistant certification if I pass the exam offered at my school. I'm taking dual classes both this and next summer as well to make-up for classes and to get ahead. These classes during the summer will apparently not count towards my high school GPA. I made A's in both the classes that I took this semester, but I don't think they boosted my high school GPA at all since I have the same GPA I had in the beginning of 1st semester. The rest of my classes are regular and are for my endorsement. At my school, regular is weighted at 4.0, dual credit 5.0 and AP 6.0. I will be taking eleven more dual credit classes during the school year (BCIS, Art 2, Philosophy, Sociology, History 1301/1302, English 1301/1302, Biology 1/2, & Algebra). This summer I am taking TX Govt, Fed Govt & Economics. Next summer will be Spanish 1/& 2 along with speech.
I am planning to pass my dual credit classes with A's and the harder ones with AT LEAST a B. Regular classes are easy classes. I'm sure even a 5th grader could pass if they did the work, but I would slack off because the moment I get home, I would sleep around 4 pm and then wake up at 5 am. I have gotten A LOT better though, these days instead of oversleeping, I end up sleeping little to none lol. I have also been a lot more active now and am on-top of my grades whenever an assignment is due. My worst subject is math though and since I only started listening mid 2nd semester to what was being taught, I was far behind everyone else. Then again, it also didn't help that my teacher is new and that only four students out of 25 would pass the tests he gave us. I currently have a C in that class and uh, my semester grade for him will be a B. Though I doubt that matters since I have a C or D in his class for 1st semester. ----- I am planning on getting math level 8th through 10th grade workbooks to study over this summer, so that I can get back on track with the other kids. On the other hand, My English teacher has talked to me numerous times and has asked if I would like for him to recommend me to AP English 3. I may take the class.. I'm just afraid of the workload since I am sure it is quite a lot. I don't think I am smart enough either. It would help me with my GPA, though. Side note, he also has asked if I would want to join poetry club.
I believe the highest GPA for the dual credit classes = 4.0 and I'm going to aim for that. Imo, those classes are relatively easy. For high school, I'm pretty much screwed. I doubt it's even possible for me to get a 2.8
IF
I were to get straight A's in regular, dual credit and possibly one AP class.. I probably have around seven to nine C's in my transcript.
I'm planning on joining lots of clubs next year and getting leadership positions. This year, the only club I joined was Recycling club and I was just a member. Next year I will be joining SkillsUSA, Student Counsel, Recycling Club (Secretary), Food Appreciation, Track and Dance. I'm going to apply to every scholarship that I am eligible for, too. Not the ones that need you to have a high GPA, but the ones that are like essay qualifiers and inspirational videos.
What are your opinions on what I should do? I was planning on one day becoming a veterinarian, but I don't know if that goal is possible anymore. Before the dual credit classes, I was thinking of going to a community college for 2 years right after high school and then transferring to a good enough 4-year that will get the job done. After that, an additional 4 years in vet school. Now that I'm going to get an associate degree, I may just go for a year to cross off other required pre-req's needed for the college that I was originally planning to go to (Texas A&M, College Station). I could do the other required pre-req's there at Texas A&M as well since I heard it's looked down upon to do all pre-req's at a community college.

Is there anything that you recommend I do to boost up my high school GPA and to bring myself up from my massive failure of a transcript by doing extracurriculars outside of class/or after-school? And based off the scores I have as of right now, what do you think is the highest high school GPA I could get? I'll be posting my 4-year school plan once I get a few more replies on this thread. Do you think I should go through with AP English 3? I heard it is better to get a B or C in a 6.0 weighted class than an A in Reg English 3, which is weighted at 4.0. I am currently a sophomore and will be a junior next year.
Oh yeah, I'm going to be volunteering at my local animal shelter this summer as well.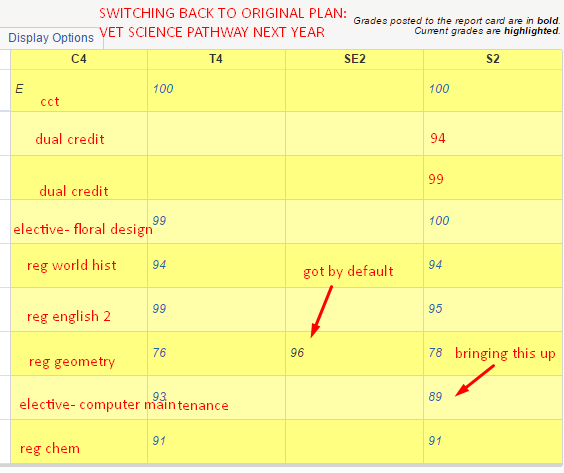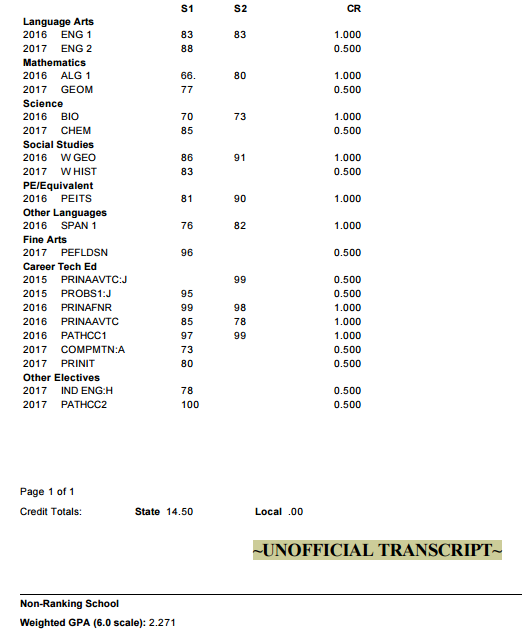 Sorry for the unnecessary information and rant! I'm hyped and discouraged at the same time.
Last edited: