Hello everyone,
I took the DAT a few months ago and I found it super helpful to read through all the breakdown threads. Now that I have some free time (aka procrastinating on homework), I can finally write a my own breakdown. Hopefully this will be helpful to some of you.
DAT Breakdown:
PAT: 22
QR: 22
RC: 27
BIO: 24
GC: 27
OC: 30
TS: 26
AA: 26
Materials used
:
I highly recommend all of these resources. Sure, they are expensive, but so is the DAT ($430 right now
). Might as well be prepared the first time so you don't have spend more money and time retaking it. Try to share with a friend and split the cost if you can.
1)
Chad's videos (aka couresaver)
for three months; 2 months would have been enough imo if you take good notes. Remember to take the quizzes at the end of the videos.
2)
DAT Bootcamp
; a must-have to practice the timing/format of the test. The tests are usually a bit harder than the actual exam or the same level of difficulty. The PAT generator is tougher than the real exam though.
3)
Cliff's AP Bio
; a good overview, but not in-depth enough imo. A good first look of the biology section.
4)
Feralis Bio notes
; super duber dense, but totally worth it to go through to fill in your knowledge. There is a reason why Feralis did so well on the DAT.
5)
DAT Destroyer
; a must-have even though it is quite pricey (try to buy it used if you can). The questions for each section require critical thinking and the answers/explanations are amazingly detailed. Make sure you go through and understand why you got things right or wrong. There are so many opportunities to learn and
identify your weaknesses
. It also keeps you humble and working your hardest throughout the DAT journey. The trick is to find the sweet spot to start on the destroyer questions. Start too soon, and the questions are likely too hard. Start too late and you won't get enough practice. While Ari's schedule is a good rough estimate of when to start using the destroyer in your study, you must decide what is best for you.
6)
Math Destroyer
; not a must-have, but nice to use if you are rusty with math.
7)
2007 & 2009 ADA tests
; the 2009 version pretty hard, esp. the QR section, but it's still good practice. I scored lower on both tests than my actual score (25 AA for 2007 & 22 AA for 2009).
Background:
I'm a senior and chemistry major. I spent 72 days total to prepare for the DAT in the summer. During this time, I roughly followed Ari's 10-weeks study schedule. For the first month or so, I "studied" about 3-5 hrs per day. I found this time to be extremely boring as I was mostly reviewing concepts I have already learned one way or another in my college career.
My biggest mistake was not actively/critically engaging with the study materials.
2 weeks before my test date, I knew I was not ready and moved my test date back by 2 weeks. Then I stepped my game up and dropped everything I was doing to spend 10+ hrs every day at the library, going through 2 days of Ari's schedule each day to catch up, basically only coming home to sleep. Despite my effort, I could not even finish the DAT Destroyer once. I did take every single DAT bootcamp test though. Would I recommend this? Not at all, I think I was going insane near the end

. However, I think it is possible to study for the DAT and do well if you can commit at least 6 weeks to it,
just don't be lazy and procrastinate.
I think that if you can follow Ari's schedule faithfully though, you are guaranteed to score at least 20ish.
**The most important thing is to know your study habits and the topics on each DAT section so you can plan accordingly!**
My DAT Journey:

1) PAT: 22
I knew this would be my worst section. I have never been good at art and did not really have a lot of exposure to this stuff. Fortunately,
this section is
all about practice
. I only really started practicing with the PAT generator 4 weeks before my exam for about 1ish hr per day and I noticed definite improvements throughout. Still, I could never get the timing for this section right and never broke 20 on the bootcamp exams. I thought the PAT section on the real DAT was pretty difficult so I am honestly amazed at my score. So yeah,
start working on the PAT generator early and consistently
and you will be fine. Also
go with your gut
because at the end of the day you got 90 questions in 60 minutes. Furthermore, the choices will just start to look the same if you keep staring at the screen.
Invest in a small whiteboard
so you don't go through a ton of paper practicing with the PAT generator.
2) QR: 22
I was a bit bummed about my score since I consistently got 30 on the bootcamp exams and (36/40) on the Math Destroyer. I think time management was my main issue during the real exam since I spent too much time on a few difficult questions and rushed some simple questions at the end. I think Chad's videos and the Math Destroyer are great resources to use to learn the basics. Just make sure you
time yourself while doing practice problems and figure out a time-management technique that works for you
(for example, skipping questions that take longer than 1 minute to solve and then coming back to them at the end). Also,
practice basic arithmetic
(like the multiplication table, etc.) to save time so you don't have to use the slow calculator.
3) RC: 27
I only did the bootcamp exams to prepare (averaged around 22). I guess I am a pretty avid reader of newspapers. Anyway, I read through the passage entirely and then answered the questions. Pretty standard. My suggestion is just to read as much as you can as quickly as you can. You can now
highlight the passage
in this section. Use that to your advantage!! It will save you a ton of time and the headache of re-reading.
4) BIO: 24
Probably my least favorite section to study for just because there was so much information.
This section is all about memorizing
and it reminded me of why I could not major in biology

. Anyway, I started with Cliff's, but realized that it was not in-depth enough when I went through the DAT Destroyer and bootcamp bio section (averaged at 20) four weeks before my actual DAT. I started using
Feralis notes and memorized a page or two per night, line by line (even the tiny subscript lines),
around 4 weeks before my DAT. I found the writing of the notes to be concise and mostly clear (I did have to look up some stuff). They were detailed enough for me to fill in my knowledge gaps in biology since I didn't take many biology classes, like anatomy and physiology.
Make sure you use Feralis notes early on
. Again, you must
find what works for you
. Some people use Anki flashcards, some make concept maps, I just walked around the library in circle memorizing the pages in my hand. I also took notes on the questions I got wrong in DAT bootcamp and DAT Destroyer. Focus on the high-yield sections like cell, anatomy, genetics, etc. if you are in a rush. It's all luck what exact questions you will get. My actual DAT had a pretty decent spread of questions, but there were a few I missed since I did not memorize specific facts.
5) GC: 27
General chemistry was pretty straight forward for me. Chad's videos were great to review everything. Make sure to take good notes and do lots of practice with the DAT destroyer. I
took notes of questions I got wrong and those I was not 100% sure about or even questions about things I felt weak in even if I got them right
. I
reviewed these daily
to make sure I do not make the same mistakes again. My actual DAT was fairly straight forward.
This section is all about practice.
6) OC: 30
The same study process as GC. You learn O-Chem best by
doing practice problems
. Chad's videos were very useful for this section.
Overall Tips:
Don't freak out too much over practice test scores. At the end of the day, they are still just practice.
Study consistently so the materials stay in your a mind, but make sure to take some well-deserved break. Even when I was freaking out I had to watch Netflix during lunch to stay calm.
Ari's schedule is quite pack. Don't underestimate the intensity of those 10-weeks. Plan for 11-12 weeks for the best result.
Don't be afraid to push back your test date. It's much better to do it once and kill it imo to save yourself some money and time.
Read through many other DAT breakdown threads. Look at their study schedule. Find one that fits your study habits the most with the score you desire.
Don't be afraid to try new study methods. Each DAT section requires different ways to study. Find what works for you for each section.
Test Day Tips
:
Bring a light snack. You can have a 30 minutes break now!
Bring a jacket/sweater. The test center may be cold.
Use your laminated sheet wisely. Exchange them during your break if needed so you don't waste time.
Don't try to erase your writings on the laminated sheets, it will only smudge and look ugly.
Eat a good breakfast.
I found it helpful to review my "mistakes" sheets just to warm my brain up and get in the zone.
Be confident because you got it!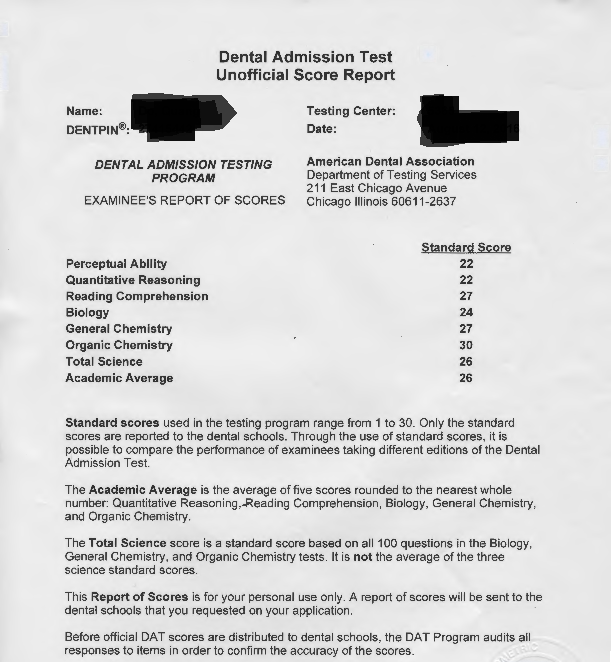 P.S.
Thank you to the creators of the wonderful test prep materials and my friends/family who kept me sane.
Last edited: