Full Member
5+ Year Member
Joined

Feb 28, 2016
Messages

28
Reaction score

154
All:
Over the past several months, I have slowly made my way through each of the school-specific threads for the 2015-2016 application cycle and logged each reported interview invitation (II) by month. The objective of this project is to provide applicants with a general idea of how many II's are left after each month of the cycle and to encourage people to apply early (48.7% of II's have been offered by the end of September). Of course, keep in mind the limitation that these trends are based on SDN self-reported data only.
The tracker.
Format
:
The first sheet contains II's by month for each school. The tables provide numerical data and are color coded to match the graphs.
The second sheet contains the last reported II for each school sorted chronologically. Hopefully this is helpful to those of you who wonder in February and March if your schools are still interviewing (though this date of final II may change from year to year).
The third sheet contains a list of the schools with the earliest and latest interview cycles.
Scope
:
Approximately 4229, or 5.4%, of the approximately 78,000 interview invitations (source: MSAR) that were given out last year by US allopathic schools were reported on SDN over the 132 included schools for an average of 32 II's per school.
Data
:
The numbers: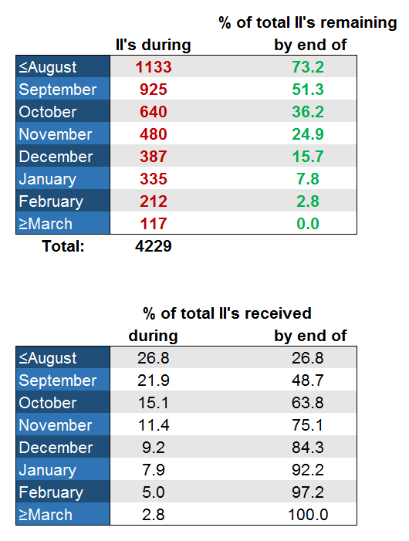 Total II's across all schools: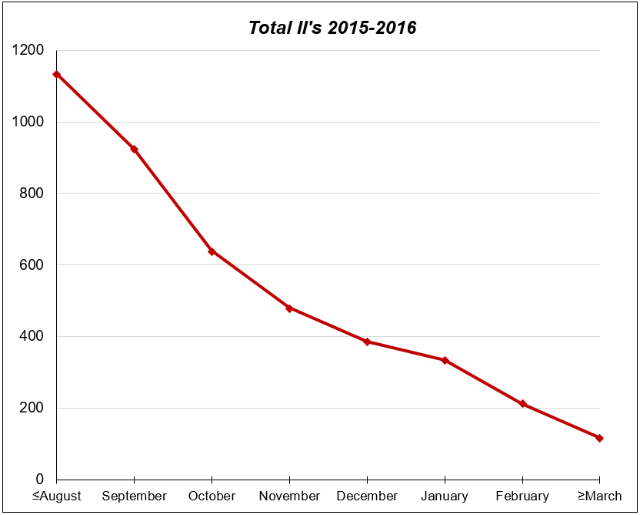 Percent of II's remaining:

Limitations/notes
:
-Based on SDN self-reported II data for one cycle (2015-2016)
-Schools included are US MD schools that use AMCAS
-Does not contain EDP or MSTP/MDPhD II's
-This data should not be used to gauge how many II's are left at a given time for a certain medical school, since that data is likely too flexible from year to year to have any real meaning here. Instead, use it to determine overall trends and how early/late schools tend to interview.
Future improvements
:
Feel free to PM me if you notice any errors in my data worth correcting, especially with regards to the last reported II's. I'll double check and update the google doc.
There are likely several analyses that can be performed with this data, such as the distribution of II's for "top 10" schools vs. state schools vs. "low-yield" schools, etc. Please post your analyses in this thread if you complete any. I'm sure they would be interesting for all of us to see.
Lastly, thanks to my good friend
@efle
for guidance.
Cheers!
Last edited: