stabby cat
10+ Year Member
Joined

Mar 12, 2008
Messages

18,918
Reaction score

11,207
It can be hard to sift through so much information at once. I know it's easier to just ask whatever it is you want to ask about. But... when everyone starts a new thread any time they have a question, things get congested and even more confusing.
Using the search function is easy. Here, let me show you.
So, here is SDN as you see it, plus or minus a few details. Maybe you are using a different theme, or maybe you have some ads at the top... but the little search box should be in the upper right corner, very close to the "Post New Thread" button that you may or may not have already found.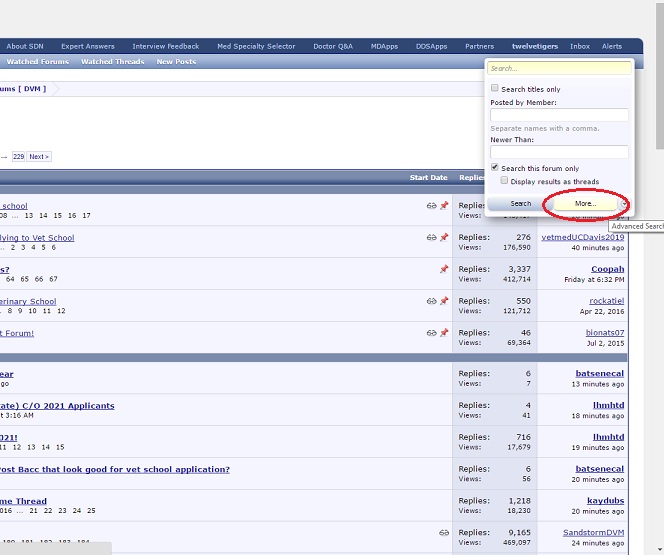 Click the box that says "
Search...
" and it will expand. You can go ahead and type things in it from here, but since SDN is such a big place, you would probably get lots of results that aren't relevant for you as a pre-veterinary student or similar. So let's make it better. Click "More..." for the advanced search function. (I circled it for ya.)
In the box that lists all the forums by section, you'll have to scroll about 1/4 of the way down and find "Veterinary Forums [ DVM ]" - you can pick Pre-Veterinary or Veterinary if you want, but I usually just pick the whole section (as shown).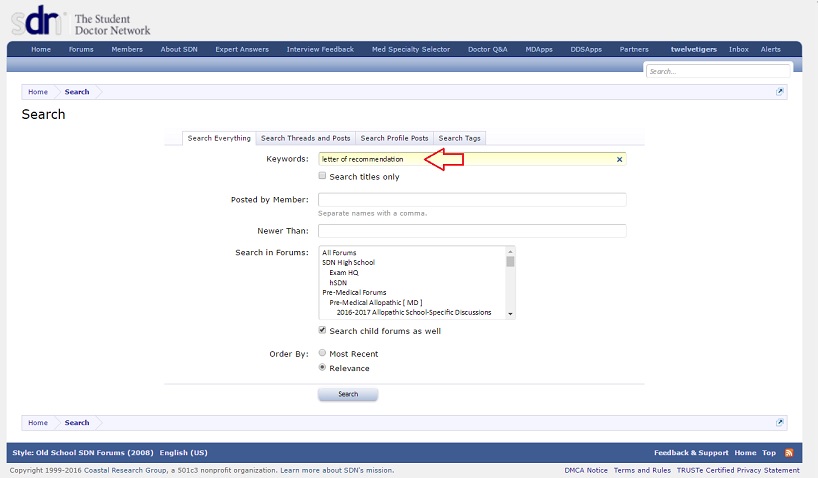 Now type some terms in the box that says "Keywords:" next to it. I did a search for 'letter of recommendation', but you could look for 'last 45 GPA' or 'Florida State' or 'research experience' or whatever floats your little boat.
The search results show up like this. On the right side, it tells you if it's a single post or a whole thread that was found. If it's a post, it takes you to the single post when you click it - isn't that convenient?
If you haven't found the information you were looking for, you can try some different keywords. If your topic is related to an older thread but is not addressed directly, please feel free to post in the older thread to ask your question rather than starting a new one.